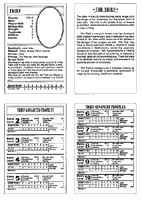 A long time ago, in a basement far, far away, I ran several games of Warhammer Quest for friends from the comic store and church (no, really!) and had a great time. I also played Advanced HeroQuest and Warhammer Fantasy Battles; at the time, the various "Character Packs" were not yet available. I happened to have a Troll Slayer miniature, but was perplexed by the lack of a statistics card to go with the rules that were included with the game. So, I made my own, and I didn't stop there.

I have only recently (as of this writing) recovered some of my old PageMaker documents that I used to make player handouts and game references for Warhammer Quest, and I've endeavored to try to convert them into a more widely usable format (Adobe Acrobat .pdf files) so that I can share them with other Warhammer Quest fans on the Internet. This is an incomplete collection, and as I find the time to go back and polish things up, I'll add more. This is dedicated to my original band of brave questers, and to those few and far between of you who actually found some of my old Warhammer Quest articles floating around the Internet and bothered to write back to me to let me know you liked them.

Mostly, all I have to offer is a grab bag assortment of .pdf files, grouped into .zip archives. You will need Acrobat Reader to use these documents. For some professions, all I have are the statistics cards. For others, I have accompanying rules, and some equipment card templates. As I find them (or recreate them), I'll try to dig up alternate spell decks, treasure cards, floor plans, and perhaps even an adventure or two.

I also have a number of old EPS files produced from CorelDRAW, as I made my own designs for dungeon sections and special tiles to mark off locations on them. I found that the process of converting these to Acrobat format files resulted in painfully large file sizes. So as not to waste bandwidth and hard drive space, I am making these available in EPS format ... but in order to actually use them, you will need some program capable of reading and printing EPS. One such package would be GhostWriter and GhostView. (You may find various other programs to be more convenient.)
In the meantime, here's what I have. To those Warhammer Quest fans out there, I hope you can get some use out of these. Happy Questing!
---
Pagemaker Files
In case you actually have Aldus/Adobe Pagemaker 5.0 or higher, here are some (compressed) Pagemaker files that I used to make my statistics cards. Not only will you probably get better results than if you try to mess with the EPS files, but you'll have templates that you can modify to make your own custom characters with a minimum of fuss.
| | |
| --- | --- |
| Pagemaker Stats #1 | Pagemaker 5.0 file (compressed) with statistics cards for the Dwarf Troll Slayer, Wood Elf Wardancer, and the High Elf Mage. |
| Pagemaker Stats #2 | Pagemaker 5.0 file (compressed) with statistics cards for the Flagellant, Ogre Mercenary, and Witch Elf. |
| Pagemaker Stats #3 | Pagemaker 5.0 file (compressed) with statistics cards for the Knight Templar, Knight Panther, and Ranger. |
| Pagemaker Stats #4 | Pagemaker 5.0 file (compressed) with statistics cards for the Skaven Warrior, Skaven Warlock, and Skaven Gutter Runner. |
| Pagemaker Stats #5 | Pagemaker 5.0 file (compressed) with statistics cards for the Jester, Troubadour and Thief. |
| Pagemaker Stats #6 | Pagemaker 5.0 file (compressed) with statistics cards for the Druid of Albion (Jade Wizard), High Priest of Hysh (Light Wizard), Shaman (Amber Wizard) and the Grey Wizard. |
| | |
| --- | --- |
| Equipment | Assorted equipment and treasure cards used in some adventures I've run in the past, including special equipment cards for some of the custom Warrior types introduced here. |
| Flagellant | Statistics card and rules for those wacky religious fanatics of Sigmar. |
| Knights | Statistics cards and rules for Knights Templar and Knights Panther. |
| Ogre Mercenary | Statistics cards and rules for the Ogre Mercenary. |
| Rogues | The Jester, the Thief and the Troubadour. |
| Skaven | Statistics cards and rules for the Skaven Warrior, Skaven Warlock, and Gutter Runner, plus events for the Skaven Undercity. |
| Witch Elf | Statistics cards and rules for the Witch Elf. |
| Wizards | Statistics cards and some rules for the Elf High Mage, Druid (Jade Wizard), Grey Wizard, Shaman (Amber Wizard), High Priest (Light Wizard) and others. |
| Articles Grab Bag | An assortment of articles in ASCII format from 1995 and 1996 on new professions, house rules, and other topics concerning Warhammer Quest. |
| Color Props #1 | EPS file of full-color vector graphic "prop" tiles for decorating dungeons: Rune Circle, Ladder, Pits (x3), Chasm, Curving Stairs (x2), Crates (x6), Skaven Altar, Skaven Circle, Pool, Beds (x2). |
| Color Props #2 | EPS file of full-color vector graphic "prop" tiles for decorating a graveyard: Trees (x4), Bone Piles (x2), Fallen Tombstones (x2), Graves (x8), Open Graves (x3), Open Graves with Bones (x3). |
| Amber Spell Cards (EPS) | Images for a complete set of spell cards (front and back) for use with the Shaman / Amber Wizard alternate Hero, in EPS and PDF formats. |
| Jade Spell Cards (EPS) | Images for a complete set of spell cards (front and back) for use with the Druid / Jade Wizard alternate Hero, in EPS and PDF formats. |
| Light Spell Cards (EPS) | Images for a complete set of spell cards (front and back) for use with the High Priest / Light Wizard alternate Hero, in EPS and PDF formats. |
| Plain Floorplans (EPS) | Collection of EPS files of basic dungeon floor sections: 3-Way Intersection, 4-Way Intersection, Dungeon Chamber, Passage, Quest Objective, Corner, and Oversize Chamber. |
| Floorplans Set A (EPS) | EPS files (and PDF version) of more-detailed dungeon floor sections: Quest Room, Dungeon Chamber, Skaven Quest Room, Stairs / Magic Circle, Cavern Pool, Cave Chambers, Oversize Chamber, Oversize Wood Floor, Large Wood Floor, Dancing Unicorn Inn, Cobblestone Street, Temple of Hysh. |
| Floorplans Set B (EPS) | Collection of EPS files of more detailed dungeon floor sections: Mine Entrance, Lava Room, Warehouse, Clockwork, Giant Room, Dragon Room / Chaos Circle, Forest, 4-Way Intersection, T-Section / Passage, Corners, Passages, Stairs. |
| Floorplans Set C (EPS) | Collection of EPS files of more detailed dungeon floor sections: Forest Path, Pond, Bridge, River, Menhir Circle, Waterfall, Rocky Slope, Graveyard, Open Field, Temple Ruins, Forest, Bog. |
| Doors (EPS) | Two EPS files with several different door designs (front and back images) meant to be cut out and inserted into the plastic doorway frames included with Warhammer Quest to represent closed doors or barriers. |