Updated 19 Oct 2010:
Eastern Kingdom maps updated to reflect corrections (Duskwood) and more information on Gilneas.
---
Updated 1 Aug 2010:
Even More Magic & Mayhem Netbook BETA updated with corrections. Special thanks to Fabrice Egal for finding various formatting issues, typographical errors, and inconsistencies. In particular, shaman totem elements are updated to be more consistent with d20 standards, and tables for steam armor have been corrected. Cleaning up this site, removing some of the obsolete elements, and making some more updates to the beta version are still on my to-do list.
Known issues, not yet addressed, as of 1 Aug 2010: Missing letter index tabs in spells section; several layout gaps where filler illustrations are needed (or placeholders need to be replaced); icons with improperly trimmed corners; page 134 blank (due to yet-to-be-added artwork).
---
ABOUT EMM&M: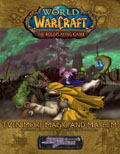 Even More Magic & Mayhem is a fan-made netbook contributed to by frequenters and fans of the White Wolf Games World of Warcraft RPG forums. No infringement is intended upon the trademarks, copyrights or other properties of White Wolf Games, Sword & Sorcery Studios, Blizzard Entertainment, or Wizards of the Coast.
It is presented in its incomplete, "beta" format, as a free PDF download for players of the World of Warcraft RPG, using version 3.5 d20 rules.
Please report any errors, editing glitches, etc., you see in the EMM&M Beta to me at mecha@gate.net, and please include mention of "EMM&M" or "Warcraft" in the subject line so I can have a better chance of picking your message out of all of the daily spam. Generic subjects such as "hello" or "hi there" or "question" are likely to get overlooked.
Special thanks to Jeff Moller and Fabrice Egal for help in proofreading for errors in the EMM&M document.