"GHOSTBUSTERS®" and the "GHOST DESIGN®" are registered trademarks of Columbia Pictures Industries, Inc. This fan site has no connection to Columbia Pictures Industries, Inc., and any use of imagery and ideas connected to the "GHOSTBUSTERS" setting here does not constitute a challenge to trademark or copyright status.

This site references the Savage Worlds game system, available from Pinnacle Entertainment Group at www.peginc.com. SAVAGE WORLDS, the SAVAGE WORLDS LOGO, and the SMILING JACK icon, and all associated logos and images are trademarks of Pinnacle Entertainment Group. Used with permission. Pinnacle makes no representation or warranty as to the quality, viability, or suitability for purpose of any product referenced by or accessed by this web site.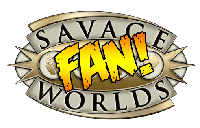 All original artwork on this web site, not otherwise a property of Columbia Pictures Industries, Inc. or Pinnacle Entertainment Group, or derivative thereof, is © 2009-2020 by T. Jordan "Greywolf" Peacock.
Special thanks to John Boulton, Wendy Peacock, Chris Stadler, Scott Venable, John Zielinsky, Karl Keesler, Greg Long, and Kevin Doswell for playtesting and creative input.
Permission is granted to print any material presented on the "Savage Ghostbusters" site (http://greywolf.critter.net/ghostbusters.htm) and any of its sub-pages, for personal use.