I've created a few fonts that may be of use to a Marshal running a Deadlands campaign set in the period of the Weird Wars. As I find time, I'll try to add a few more. If you'd like to see some of my other fonts, you can find these and others on my fonts page.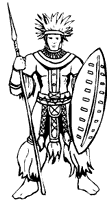 Greywolf's Paper Heroes #02
Pulp Action Adventure
A grab bag assortment of 26 models of 1930s/40s "pulp adventure" heroes, villains, vigilantes and personalities, including a few characters from my own "Weird Wars" campaign.




Greywolf Nouveau
A handwritten "Art Nouveau" style font - more or less, a preview to a more refined version I plan to make later, after significant clean-up.




Greywolf's 'Glyphs
A collection of hieroglyphs and wall painting characters meant to be used to decorate player hand-outs, or for use in creating miniatures scenery in an Egyptian setting.